The first step in teaching healthy emotional development to our children is to model Regathering and Reconnection tools for them.
Here's a Recap of the Steps to Support your Regathering and Reconnection Plan as a Parent:
1) Gently Observing your Stress Response Tendencies: Fight, Flight and/or Freeze.
2) Identify Regathering and Reconnection Tools you'd like to try out Proactively and Preventatively Practice and Model this week.
3) Practice the Tools this Week in Calm and Connected Moments: Try to practice 1-3 times/daily.
---
From this place, of modeling your healthy emotional expression and integration with the Regathering and Reconnection tools, you can begin the same process for your children
---
Step #1: Gently Observe Stress Response Tendencies in your Children.
---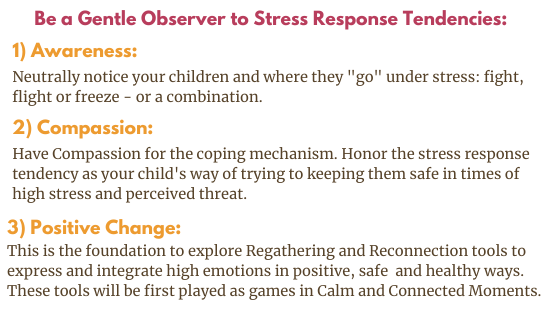 ---
Step #2: Select 1-3 Regathering and Reconnection Tools to try out proactively and preventatively as games/Quality Time this week in Calm + Connected Moments.
---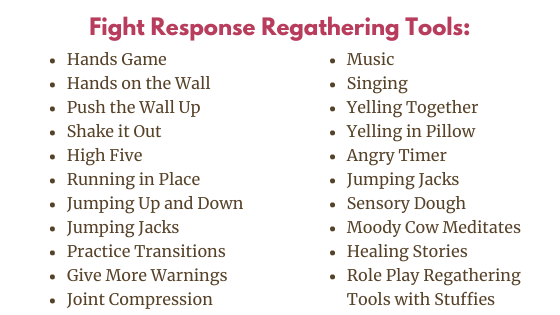 ---
---
---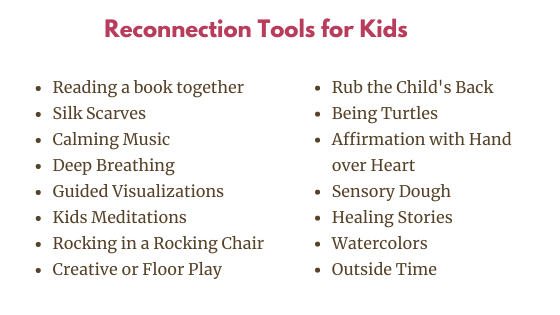 ---
Parenting Reflections:
What are your child's primary stress response tendencies?
Parenting Practice:
What are 1 – 3 Regathering and/or Reconnection tools you want to practice this week with your children as a game or for Quality Time in Calm + Connected Moments?