One of our #1 responsibilities as parents is to provide our children with an optimal home environment and caregiving relationship with us based on who they are as unique individuals. This allows our children to grow into a connected and empowered version of themselves rooted in their strengths.
 Remember that perfection is not the goal, but "good enough" parenting. Your best effort at goodness of fit and ability to lower expectations during times of disconnect is enough.
---
"When a flower doesn't bloom you fix the environment in which it grows, not the flower."
~ Alexander Den Heijer
This is a wonderful analogy to think about goodness of fit for your children.
More about goodness of fit:
"Goodness of fit is simply defined as the compatibility between environment and a child's temperament (Thomas & Chess, 1977). Poorness of fit occurs when temperament is not respected and accommodated. A goodness-of-fit is seen as fostering healthy psychological and social development. It is tied to positive self-esteem, flexibility, an ability to accommodate, feelings of acceptance and belonging. It's essential that parents foster goodness-of-fit by accommodating and working with the temperament/personality of their child."
Read more from "Lasting Effects of Goodness or Poorness of Fit" here
---
Understanding the temperament dynamics in your family is essential to your Happy Home.
A temperament mismatch can result in disconnect or ruptures in connection in parenting.
Please take the Temperament Tool Quiz here for each of you and each of your children:
https://www.ecmhc.org/temperament/
Please note:
The Quiz says Infant/ Toddler, but it is applicable for school age children as well.
Your answers will not save, if you bookmark it. Be sure to screenshot your answers if you'd like to save them.
The Temperament Quiz is a general assessment and educational tool that will capture the main differences and similarities in temperament, but miss many of the subtle similarities and differences in your family.
Here are the 9 Temperament traits below.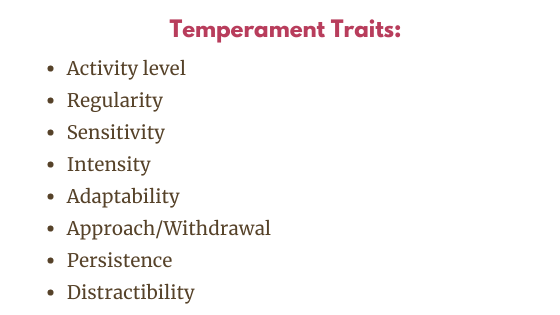 Parenting Reflections:
What main similarities and differences between you and your child were captured by the Temperament Tool?
What Goodness of Fit recommendations were suggested? Which recommendations are you already doing, and which recommendations would be beneficial to do more consistently or to try out?
---
Parenting Practice:
What is one Goodness of Fit recommendation from the quiz that you'd like to focus on either putting into practice – or to continue doing – this week?